L.I.N.K. Sunday School Class

The L.I.N.K. Sunday
School Class is a group discussion style class. Topics
discussed include books of the Bible from both the Old and New Testaments,
subjects such as prayer and spiritual gifts that draw from multiple books
of the Bible, and special lessons such as symbols of the disciples. The
current topic is the book of Genesis. The class meets in the
basement beneath the sanctuary. All are welcome!
---

The Adult Sunday School Class

The Adult Class meets in the Fellowship Hall and is open to any age, from young adults through young-at-heart adults. The class uses the Adult Bible Studies quarterlies, Uniform Series (International Bible Lessons for Christian Teaching) and during July and August there are guest speakers, who may choose their own subjects. It is usually a lecture-style class with some discussion led by a different teacher each week. Right now there are four teachers who take turns: Bob Thomas, Frank Gelwicks, and Ken Baker.
---

"Creative Adventures"

Each season, Jen Raifsnider plans paint and crafting events for children. These events are open to the public and are well attended. Parents are encouraged to stay and fellowship while the children are assisted by our children's ministry leaders. This outreach is intended to encourage the young families in and around our community, while offering kids of all ages, abilities, and situations a chance to express their creativity and learn artistic skills. Unless the project is particularly involved, these classes are free. You can find and sign up for the events by following us on facebook at 'Marion First UMC'.
---

Marion Creative Exchange

The first Monday of each month come out at 6:30 for a wonderful artistic experience. Various artists will present project, technique or craft and have supplies on hand for you to try it yourself. You are also welcome to bring your own project to work on in the company of fellow artists. Classes are by donation.
---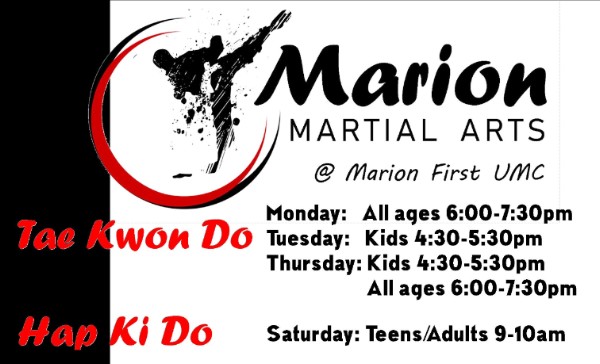 Martial Arts Classes

Join us for a wonder experience in the martial arts of Tae Kwon Do and Hap Ki Do. Classes are taught by two lifetime martial artists. Adult Tae Kwon Do is offered Monday and Thursday nights from 6-7:30, and Children's classes Tuesday and Thursday from 4:30-5:30. Hap Ki Do is teen and adult and offered Saturdays from 9-10. Cost is donation at your discretion.
---

Open Gym Nights

Have some fun and exercise with basketball and volleyball. The Monday of the first and third full week of each month we have open basketball. Every Thursday is volleyball. Time runs from 7:30-8:30
---

Stitch1, Pray 2

Stitch 1, Pray 2 is a prayer shawl ministry whose mission is to provide a tangible expression of God's love through the work of loving hands.

Each shawl is prayerfully made and consecrated by God at a worship service to be a blessing to the person who will receive it.

The works of our hands have celebrated 90
th
birthdays, new homes, and new babies, and have offered comfort and support in times of illness or bereavement.

Though much of the handiwork is done at home, the group enjoys coming together to share new patterns, to encourage each other, and to pray that their shawls will be a blessing to someone.

Presently Stitch 1, Pray 2 is meeting on the third Wednesday night of each month from September through May at 7:00 PM in the Young Adult Sunday School classroom next to the church office.

We welcome anyone who knits, crochets, or wants to learn
.
---

Hand Bell Choir

The bell choir meets Wednesday evenings from 7:30 to 8:30 pm. The choir uses a three-octave set of bells and a two-octave set of hand chimes. The choir has a great time ringing and laughing together. The choir performs approximately once a month.
---

Sanctuary Choir

The choir meets Wednesday evenings from 6:30 to 7:30 pm. The choir sings at the 10:30 am worship service approximately 3 Sundays per month. Because of their special bond the choir looks forward to not only the practice time they share from September to May but also to the opportunity to assist in worship.
---

Little Lambs Sunday School Class

The Little Lambs Sunday
School Class is probably our most enthusiastic group of learners in our church. They meet weekly at 9:30 AM in the Nursery room in the upper level of the church. There are always at least two adults with the class of 5 -7 children. This class is geared toward 2-4 year old and includes a Bible story, an activity or craft, a prayer (with several of the children offering their own prayers), often a snack, and an organized playtime. The children are currently learning about Famous Bible Children, including Miriam and Moses, Isaac, Samuel, and David. The children usually sing or do a short presentation (from their lessons) in the 10:30 worship once every 6 - 8 weeks.
---

Wednesday Night Youth Fellowship

We open the doors Wednesday night from 6:30 pm to 7:30 pm during the school year to youth 6th grade and older. Fun events and service projects are interspersed throughout the year. Our teens especially enjoy fellowship over a stack of pizzas!
---